Straightforward and Transparent Pricing
Understanding your total costs for financial planning and investment management services can be challenging. Your total cost often includes some or all of these:
Commissions
Custodial fees
Investment fees
Product fees
Transaction fees
Account administrative fees
Advisor fees
At JSA, we are fee-only advisors, meaning only clients (you) pay us. We DON'T sell any products and DON'T earn commissions from selling mutual funds, annuities, or other investment products.
Instead, our fees are either:
A quarterly fee based on the investments we manage (in most cases), or a
A flat-rate retainer fee based on your net worth and income
For example, if we manage investments for you, our fee will be: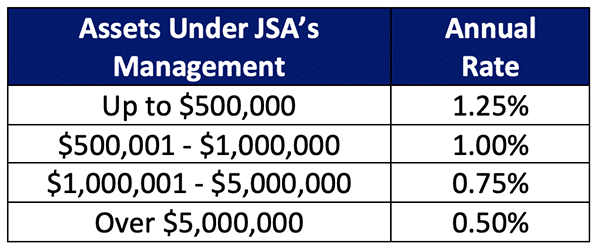 Remember, you only pay a fee for the assets we manage. So, if you have a $500,000 401(k) at your employer and JSA manages a $400,000 investment account, we charge a fee on the one investment account, but we'll provide insights and recommendations on your entire financial life.
If you're already working with an advisor, we'll help you determine what you're paying today during our first meetings so you'll know if you can save money working with JSA.
In most cases, we can offer substantial savings or additional services (or both), and if not, we may suggest you keep your money where it's at. We simply want to help, and we want our partnership to work for both you and JSA.
Contact us today if you want to compare fees and services to learn if we can help!