Considering how strong the housing market has been recently, you may think this seems a strange question. We've all probably heard stories of sellers receiving multiple offers or offers without contingencies.
For better or worse, real estate is more expensive almost everywhere you look.
Something else has happened recently too. Inflation has been higher for longer than many had hoped. That's put the Federal Reserve on an aggressive path to raise interest rates. While we started 2022 with interest rates (and bank savings rates) at close to zero, investors now expect those rates to reach around 3% by year-end. The old saying "don't fight the Fed" has held true this year. If they want higher interest rates to squash inflation, they'll create them.
What do higher rates mean for you?
One of the most visible signs of higher interest rates is its impact on the cost of your mortgage. For example, last year, at this time, you could purchase a $300,000 home with 20% down and get a 3% mortgage, making your monthly payment about $1,700.
Today's mortgage rate is over 5%, making the monthly payment on that same house (at last year's price) about $2,000 a month. That's almost a 20% increase, which makes moving or buying a new home much more expensive than it was not that long ago.
That means higher mortgage rates = higher borrowing costs for buying a house. And mortgage rates are now rising at the fastest pace since the mid-1990s.
This means prices will come down, right?
Well, it isn't that simple, of course. While higher mortgage rates usually pressure home prices, that hasn't been the case lately. Instead, the severe shortage of homes available to buy contributes more to soaring housing prices. In other words, the Fed may be able to dampen homebuying demand by hiking rates, but the housing market will only moderate when home supply catches up. That's why many economists expect home prices to continue climbing for the rest of the year.
We keep an internal model of the U.S. housing market to help us understand the industry. It estimates housing affordability considering mortgage rates, household incomes, home prices, lending standards, etc. We'll include the output of that model below: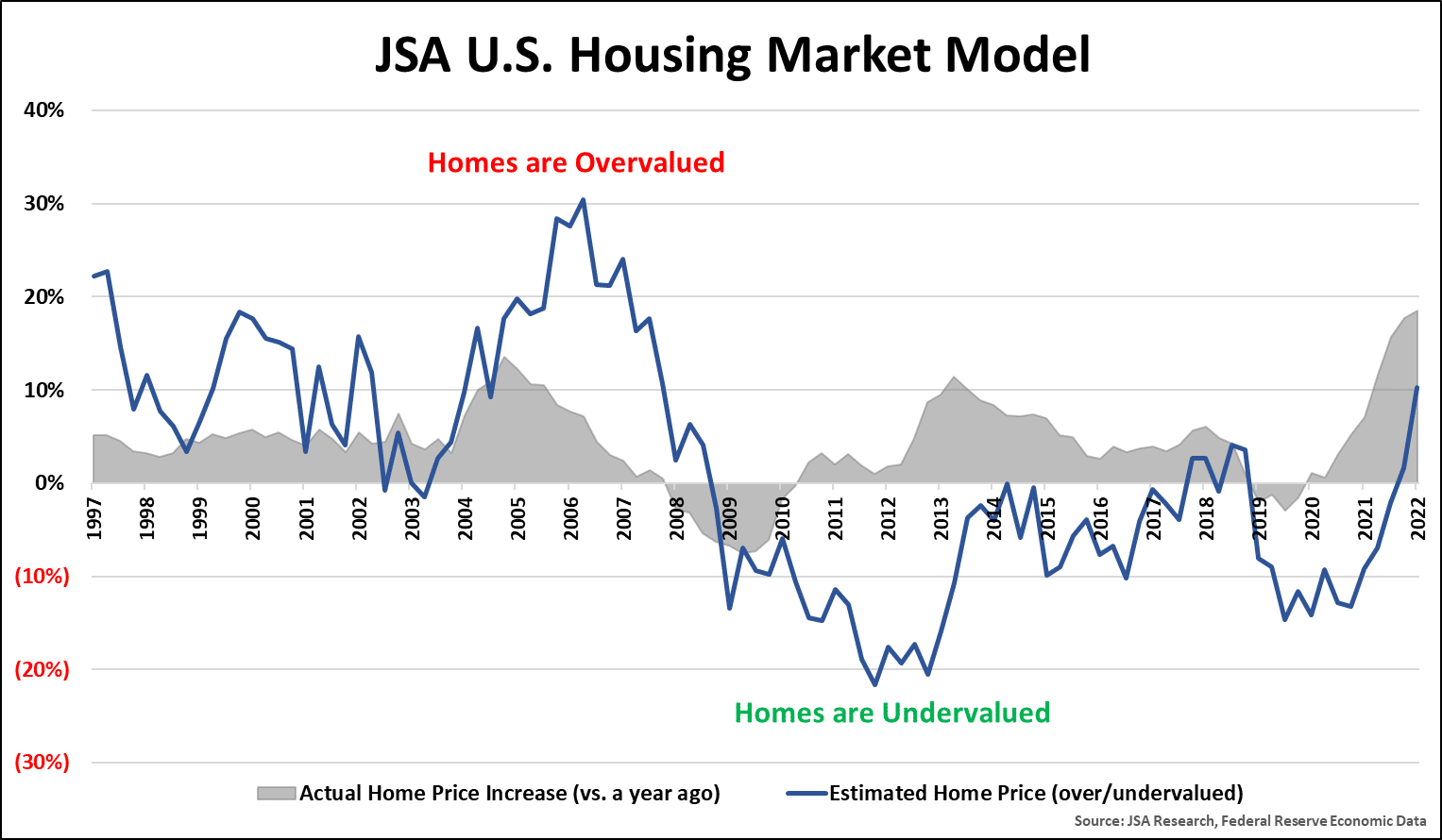 In short, to get back to "fair value" for home prices, our best estimate is that one (or a combination) of the following needs to happen:
The 30-year mortgage goes back to 3.3%
Household income (wages) increase ~15%
Home prices decline ~10%-15%
If mortgage rates stay at 5%, home prices will likely end their incredible push higher, and we might see a few years with little to no home price appreciation. That's much different than what we've seen in recent times.
So, do we think they'll be a crash? Probably not, but housing, like many assets, will have to adjust its prices lower in a world of rising interest rates.
Important Information:
Jacobson & Schmitt Advisors, LLC (JSA) is a registered investment advisor. Advisory services are only offered to clients or prospective clients where JSA and its representatives are properly licensed or exempt from licensure. For additional information, please visit our website at www.jandsadvisors.com.
The views expressed in this commentary are subject to change based on the market and other conditions. These documents may contain certain statements that may be deemed forward looking statements. Please note that any such statements are not guarantees of any future performance and actual results or developments may differ materially from those projected. Any projections, market outlooks, or estimates are based upon certain assumptions and should not be construed as indicative of actual events that will occur.
The information provided is for educational and informational purposes only and does not constitute investment advice and it should not be relied on as such. It should not be considered a solicitation to buy or an offer to sell a security. It does not take into account any investor's particular investment objectives, strategies, tax status or investment horizon. You should consult your attorney or tax advisor.
All information has been obtained from sources believed to be reliable, but its accuracy is not guaranteed. There is no representation or warranty as to the current accuracy, reliability, or completeness of, nor liability for, decisions based on such information and it should not be relied on as such.